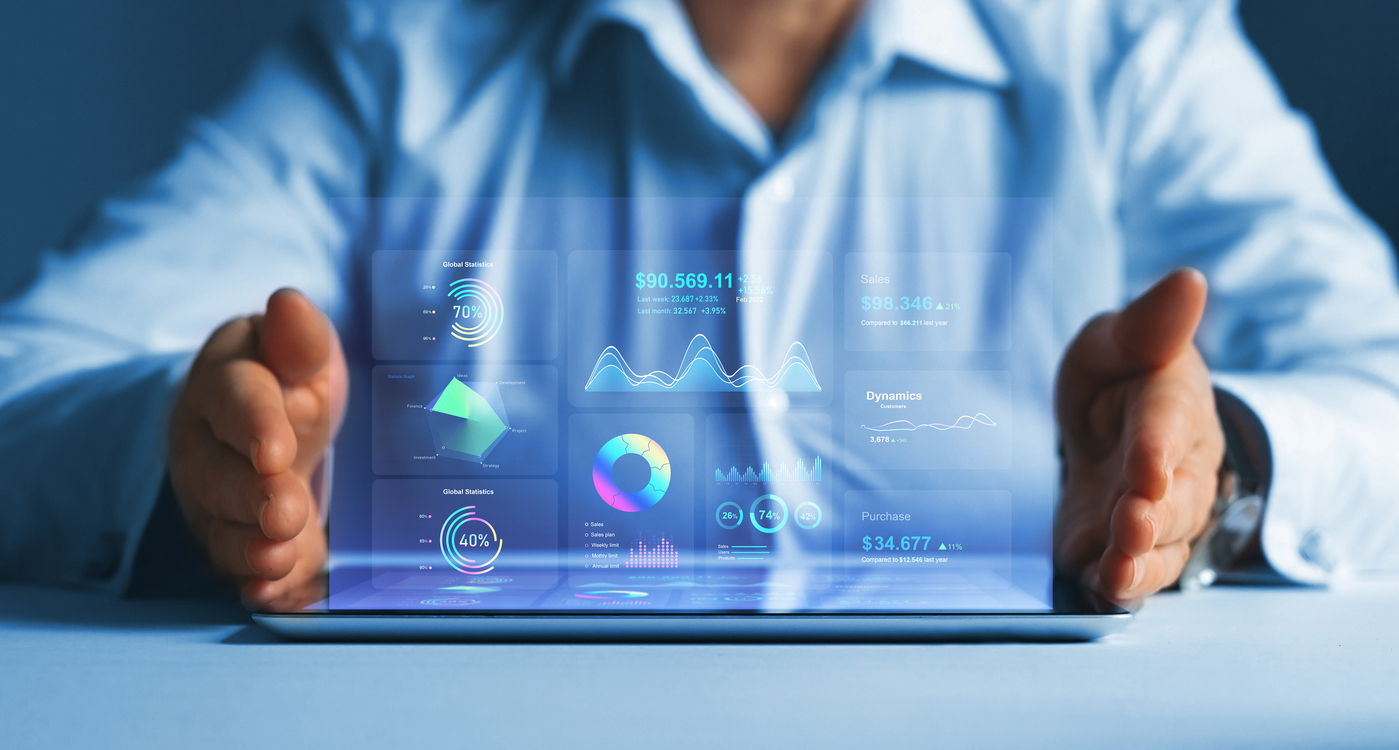 Facility Managers (FMs) are having to respond quickly to rapid shifts in workplace strategies. This calls for strong capabilities in analytics, which in turn places a high demand on data availability and data quality, including the supporting management and technology solutions. Yet there are significant challenges and fundamental gaps facing FMs related to the technology they use, their process maturity, legacy data quality, and how data is currently managed.
Below are the results from a recent EBUSINESS STRATEGIES poll during an IFMA WE:binar in which we asked CRE managers from various companies to rank common data related challenges: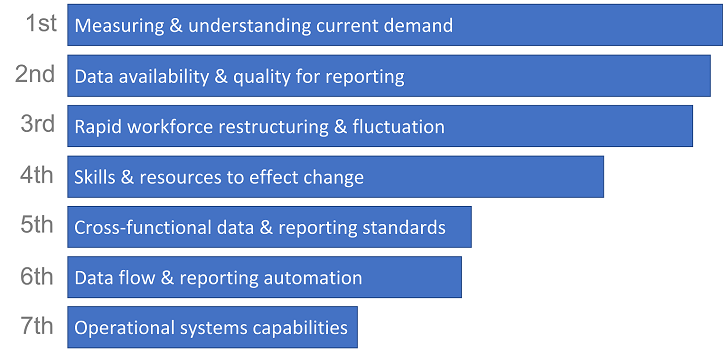 Key observations from these results include:
The challenges that ranked 1st (Measuring and understanding current demand) and 3rd (Rapid workforce restructuring & fluctuation) emphasize the enormous day-to-day pressure placed on CRE functions as a result of rapid shifts in workplace strategies.
This, in turn, creates a rapid and changing demand for reporting and supporting data which ranked 2nd, 5th, and 6th.
Logically we cannot achieve sustainable data availability and data quality (2nd) without skills (4th), standards (5th), automation (6th), and supporting technology (7th). The items that ranked highest are symptomatic of potential underlying data management challenges that ranked lower in the survey. This leads me to conclude that the survey results more closely reflect competency gaps, highlighted by an inability to quickly respond to shifting business demands, and not necessarily the order in which these challenges need to be addressed.
In order to consistently and rapidly deliver high-quality data and information, organizations need to have the following components and competencies:
Data management strategy – contains the mission, objectives, success criteria, and business case for data management. It further provides a timeline of what will be delivered and how this will be accomplished, including key program, technology, and organizational components. It is critical that all stakeholders are identified and aligned. It is especially important for business and IT functions to be aligned on all aspects of the strategy, including roles and contribution associated with the development and operation of each component.
Data standards and governance – cross-functional data standards (in the form of a business glossary or data dictionary) are foundational to establishing and maintaining high quality data and reporting that stretches across all stakeholders that contribute to the successful delivery of CRE services. Data governance provides an organizational and procedural framework for establishing and maintaining data standards and their associated benefits. Data governance includes the identification, classification and management of data security and compliance related aspects.
Data quality management – establishing data quality starts with a thorough understanding of the current state of an organization's data. This includes profiling data in terms of source, content, type, volumes, sensitivity/security, interrelationships, conformance standards or lists, data quality measurement metrics and target performance levels. The next step is to perform an assessment of current data to identify gaps and opportunities for improvement. Improvement opportunities should include resolving business process or system misalignments that impact data quality. A data quality management strategy and roadmap must be developed that defines when and how data quality gaps will be closed and how data quality will be monitored and maintained. A critical aspect of maintaining data quality is its dependency on the technology platform and architecture that is implemented. With the scope and volume of data managed today, it would be unrealistic to expect that data quality could be maintained without significant technology support and automation.
Technology platform – as mentioned above, the technology platform is foundational to the rapid delivery of high-quality data. A successful technology solution is dependent on having the right architecture that defines how source data is gathered, validated, integrated, transformed, stored, and delivered for downstream use by the business. Because of the critical dependency on the technology platform and architecture, it is essential that this solution is understood by the business and incorporated into the overall data management strategy. Partnership between IT and the Business is key to success!
Operations aligned with data management standards and requirements – operational processes, systems, and responsibilities must be reviewed to ensure alignment with data standards and implementation of acceptable data management practices. This includes the identification and involvement of Data Stewards within functional areas of the business that help facilitate this alignment and support the ongoing oversight and management of data quality within their area.
The scope and scale of implementing all aspects of data management is daunting, especially considering the pressure that most CRE functions experience today. So, what could a sensible approach to implementation look like? EBUSINESS STRATEGIES recommends the following steps for tackling the data management initiative:
Start with identifying a core team within CRE that will own this initiative.
Educate the core team and key stakeholders on the foundational aspects of data management, enabling them to participate in internal and external conversations needed to establish this within the CRE function.
Familiarize yourself with what data governance, data stewardship, and data quality management programs are already established or being deployed within your organization. The need for high quality data is not unique to CRE; other business functions are most likely facing similar challenges.
Discuss with your IT leadership how your organization's platform and architecture support data governance and data quality management. Identifying and aligning with similar corporate initiatives would be the best place to start and would ensure full integration of CRE data with the rest of the organization.
Develop a CRE data management strategy and roadmap that leverages the capabilities and programs that your organization has to offer.
When aligning with the rest of the organization and establishing the CRE data management program, start with cataloguing, prioritizing, and standardizing CRE data and building out a CRE data dictionary. Data used cross-functionally should receive higher priority, for example location hierarchy, geo hierarchy, organization hierarchy, people, etc. Assess the current state of this data first, including identifying systems and processes impacting the quality and use of the data.
Still sound like a daunting undertaking? Our Data Advisory team has over 20 years of experience supporting data analytics and CRE data management strategies. We're happy to help your organization achieve data optimization to support changing demands more efficiently. Reach out today – askebiz.com!